Customer Relationship Management (CRM) software is becoming a key sales growth tool in allowing small businesses to not only manage interactions with their client base but to analyse, nurture and improve these relationships with the aim of improving customer satisfaction and retention. With the cost of acquiring new customers being significantly higher than retaining existing customers, businesses are becoming increasingly reliant on this type of software to help in this retention process. This is particularly true of small businesses, who want to focus on retention and keep costs low.
CRM software analyses customer communication and behaviour to give businesses an insight into how they can best manage and improve their customer relationships through information such as trends and predictions. CRM also helps a business to recognise the value of their existing customer base.
With a growing market and increasing demand for CRM software, it can be difficult to decide which CRM tools are best suited to your business' needs.
We have put together a guide to choosing a CRM for Small Business and also evaluated some of the most popular software on the market to help you decide.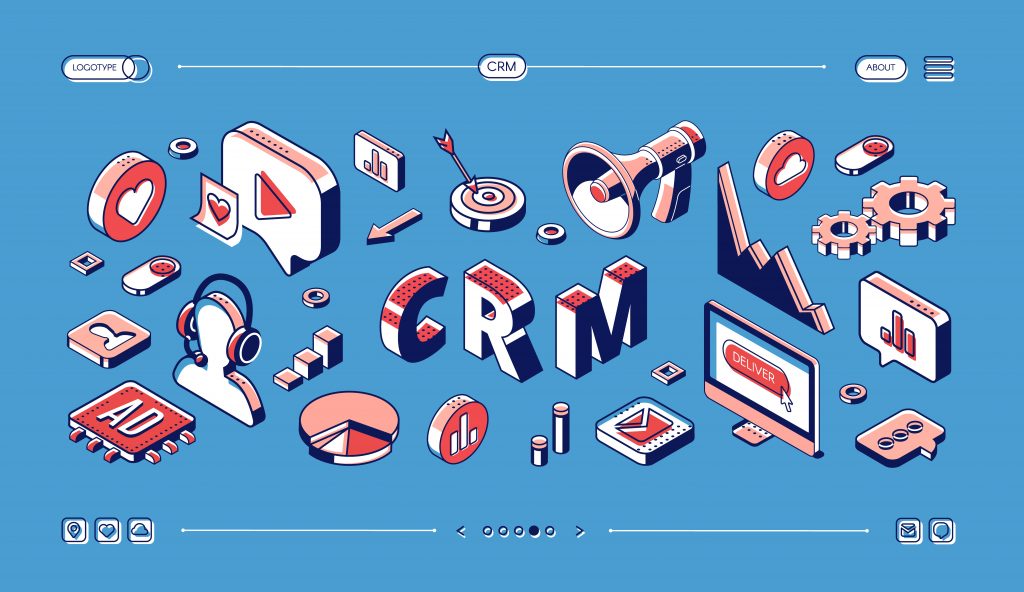 What should I be looking for in a CRM for Small Business?
When it comes to choosing a CRM for your small business, there are 5 major factors or functions that you will need to consider before deciding which product you want to implement.
Marketing Automation
Communicating and marketing your services to your customers is imperative in the success of your business. Marketing Automation allows you to automate campaigns and collect performance data. Having adequate marketing automation integrated into your CRM can greatly assist companies in both retaining and acquiring customers to their services.
Landing Pages
Having website landing pages that are not only well presented is vital in providing a clear, distraction-free path for customers to reach the information they need. Having a CRM system that can easily create landing pages is key to increasing leads, engagement and conversions without the need for a web designer.

Sales Lead Routing or Automation
A CRM system that automates your Sales lead assignments and pushes your leads along the pipeline more efficiently will greatly accelerate your lead generation and conversion efforts. Software that integrates customised lead assignments and automatic routing will not only save businesses time in following and converting leads but speed up the process.
Customisation
As with all software, CRM systems are not a 'one size fits all' solution as some businesses will require specific, custom features that best fit their business needs. The higher level of customisation a CRM software offers, the more desirable and beneficial it will be to a business in terms of both improving and streamlining their workflows and processes.
Reporting
Collecting and analyzing data is one of the primary roles of CRM software – with the information collected being fundamental in helping a company make decisions in how they deal with customers. This importance means the reporting capabilities of the software need to cater to all requirements for the business and are imperative in the buying decision when it comes to choosing CRM software.
Which CRM Software is right for my small business? Product Comparison
With so many options available in the CRM software industry, we have taken a look at some of the most popular products on the market to see how they measure up against our 5 key factors. (All prices correct as of July 2020/ based on pay monthly Plan)

Price: From $19 per month (14 Day Free Trial available)
Marketing Automation ✓
A CRM Software specifically designed for E-commerce, Drip offers marketing automation to help e-commerce brands using their store data. Compatible with Shopify, Magento and WooCommerce stores as well as custom stores. They also offer automated email and workflow triggers on customer sign up as well as pre-built email design templates.
Landing Pages ✓
Drip allows users to build landing pages and lead pages for opt-in campaigns and lead capture.
Sales Lead Routing and Automation ✓
Drip offers a 'lead scoring' feature that quantifies the customer's value. The software can then be used to create an automated rule to send this customer information to the sales team as a qualified lead.
Customisation ✓
As well as being compatible with custom e-commerce sites, Drip also allows for custom fields, tags, segmentation and automated triggers. Drip offers brands multiple customisation options for process and workflow automation to suit their needs and create unique customer journeys.
Reporting ✓
Drip provides users with pre-built reporting including conversion tracking, email reports, leads scores and customer journey data. They also provide customisable dashboards that can be created to reflect a brand's most important metrics.
---
Price: From $29 per month (Free basic plan available)
Marketing Automation ✓
Convert kit offers email marketing automation service to send targeted content, automated funnels and customised subscriber paths. The feature also offers the chance to segment and audiences based on customer journey as well as customisable actions. There is also an inbuilt email designer, however, this is limited to 3 text-based templates so will not suit companies looking to send visual email campaigns.
Landing Pages ✓
The software offers Code-free, custom landing pages templates which can be created without a website, this is also integrated with Upslash enabling users to access stock photography. There is also a customisable form builder feature included.
Sales Lead Routing and Follow Up X
Much more of an email marketing/landing page CRM, ConvertKit doesn't seem to offer any automation for sales leads or follow up.
Customisation ✓
ConvertKit focuses on email marketing and integrating with e-commerce. Can be integrated with a number of lead capture and e-commerce platforms including Shopify, Zapier and WordPress
Reporting ✓
Convertkit offers basic email reporting tools including open rates, bounce rates, unsubscribes and clicks but can't be integrated to analyse or capture eCommerce conversions or social media reports.
---
Price: From $49 per month (30-day free trial available)
Marketing Automation ✓
A Visual Marketing Automation CRM tool, Autopilot offers an easy, coding-free drag and drop software to automate the customer journey. They also offer multi-channel journey set up in which customer journeys can be personalised and triggered to send automated Emails, SMS Messages, In-app messages and postcards.
Emails can be gated for lead capture to collate new leads which can then be tagged and assigned to LiveChat teams.
Landing Pages X
There is no Landing Page feature offered.
Sales Lead Routing and Follow Up ✓
Customer information and leads can be rated, tagged and segmented based on activity and demographics. Lead assignment, appointment bookings and sales lead follow up can be automated within the CRM to streamline the follow-up process.
Customisation ✓
The software can be integrated with Facebook ads, Salesforce CRM, Pipedrive, Google Adwords and other apps including Zapier, Slack and GoodData. However, the CRM does not integrate with some major platforms including MailChimp.
Reporting ✓
A Marketing analytics dashboard is offered to monitor conversions, deliveries, opens, clicks and unsubscribe rates.
---
Marketing Automation. ✓
Created for outbound call centre businesses, Five still offers marketing features and automation including advanced, triggered email, social media and SMS messages.
Landing Pages ✓
Five offers a landing page builder alongside over 100 templates that can be used to create mobile ready landing pages such as confirmation pages, contact pages and demonstration booking. Businesses are also able to design and create web forms to capture customer information and lead data that is automatically
Sales Lead Routing and Follow Up
Information collected through web forms is automatically collected and routed through the CRM database. As client calls and lead follow up is essential in this industry, auto- dial and automated call backs are implemented to ensure efficiency of contact and of follow ups
Customisation
The CRM offers customisation in terms of workflows and call, lead routing to suit each business. Call scripts and guides can be used to automate next question selections based on individual call information. Reports and dashboards can also be customised with specific information for display and sharing.
Reporting
Five CRM includes unlimited sales reports and visual data reporting with customisable dashboards to present selected data for specific KPIs.
---

Price: From £15 per month (14-day free trial available)
Marketing Automation. X
Pipedrive does not have its own inbuilt marketing automation features but is able to integrate with many popular marketing automation platforms including MailChimp, Drip and Autopilot
Landing Pages X
Pipedrive doesn't include a landing page creation feature but does have a web form creation feature that allows leads to be captured and fed directly into your pipeline.
Sales Lead Routing and Follow Up ✓
Particularly useful for small business sales teams, the CRM assigns and routes qualified leads to specific positions in your pipeline and includes web forms and a chatbot that automates meeting booking.
Customisation ✓
The Pipedrive CRM can be integrated and synced with Google and Microsoft Calanders and Contact lists. There is also a mobile app that can be downloaded for free. The CRM can also be integrated with over 150 apps including Slack, Mailchimp, Google Maps and Trello and offers one click installation
Reporting ✓
Pipedrive offers customisable, visual sales reports and dashboards to track key metrics and behavIours. Sales reports can be broken down into individual products or services for deeper insights. There is also a team feature that can report and analyse individual targets and KPIs for each team member and track progress.
---
Price: From $24 Per Month (14 Day Free Trial Available)
Marketing Automation ✓
Keap offers automatic processes for sending pre written emails and text messages to leads. Marketing emails can be scheduled on timed triggers or in response to particular client actions. Sales processes can be automated and repeatable with messages sent automatically as leads progress through each stage.
Landing Pages ✓
The software offers a gallery of landing page templates and a drag and drop building tool to create lead capture landing pages that work with email and paid campaigns. Keap also offers a library of free stock images that can be used to visually enhance the pages.
Sales Lead Routing and Follow Up ✓
The interactive pipeline feature allows businesses to track and manage leads and automates moving clients through the sales funnel. Appointment booking pages can be set up and shared with a link, this can also be synced with Google or Outlook calendars to automatically add appointments.
Customisation ✓
Keap have their own mobile app enabling users to access all information remotely. The CRM is compatible for integration with many popular platforms including WordPress, Zappier and Quickbooks as well as popular email services such as Gmail and Outlook.
However, there is not an integration option for Social Media channels which could be problematic for businesses looking to concentrate on this kind of marketing,
Reporting ✓
Keap Software offers analytics dashboards across marketing, sales, web, finance and administration. They record and display key metrics including conversions, traffic, sales and campaign performance for a rounded view of how business is performing.
---
Price: From $8.99 per month (Free Account for up to 10 users)
Marketing Automation ✓
The built-in Marketing automation feature offers both pre-packaged and custom templates for creating emails and newsletters with a drag and drop builder. Automated email processes and flows can be set up to auto-respond to new leads and follow up with prescheduled emails. Web automation can also be created in the form of triggered web forms and pop-ups to reach both new and returning customers.
Landing Pages ✓
Agile offers a drag and drop landing page designer as well as web pop-ups and web form designer with multiple template options. There is also an optional code editor which can be used to directly edit the designs.
Sales Lead Routing and Follow Up ✓
There are multiple lead and follow up features available through AgileCRM including lead scoring and tagging as well as automated appointment scheduling integrated to your calendar.
Customisation ✓
Workflows, dashboards, sales pipelines and marketing automations can be customised to suit business needs. The CRM can be integrated with many popular platforms, telephony and social plugins including Facebook, Linkedin, Google Apps, Zendesk and VOIP.
Reporting ✓
Agile offers both website and contact-level analytics with metrics including customer behaviour, web traffic and referring URL data.
---
Price: From £14 per month (15 Day Free Trial available)
Marketing Automation ✓
Campaigns can be set up with a drag and drop automation system for email workflows that can trigger campaigns and email based on customer engagement and actions. Zoho does offer a gallery of email templates but these are featured on a HTML designer rather than a drag and drop tool.
Campaigns can also be shared and promoted on Social Media with Facebook, Twitter and Linkedin.
Landing Pages ✓
Zoho offers an Ecommerce and Social Landing page builder within the CRM as well as a web form builder for lead capture. These pages can be created from scratch or using inbuilt templates and can feature video, buttons, coupon codes and product images. The advanced plan also features the option for altered layouts and dynamic content.
Sales Lead Routing and Follow Up ✓
Zoho's lead management system includes lead scoring, analysis and nurturing. Workflow rules can be pre-defined to assign leads to particular sales reps dependent on geography and product. The CRM also offers omnichannel communication meaning leads can be followed up with social media, telephone or live chat.
Customisation ✓
Zoho offers a large amount of major integrations including Mailchimp, WordPress, G Suite, Eventbrite, Survey Monkey and Facebook Ads giving businesses a multi platform CRM product.
 Reporting ✓
The reporting feature within Zoho offers standard Sales, Marketing and Activity reports dashboards but users can also customise their reports to reflect their own key metrics. The information can be translated to graphs and charts which can be further embedded into third party dashboards using unique embed codes.